It's Friday. Today, Pete is going after work to upstate NY to hunt some kind of bird. He's taking the puppy. I have to admit, that's the best thing when he goes hunting--he takes the dogs! Except this time he's leaving the old one, Cody. She's no trouble, really. I don't have to be home mid day to feed her and she has a big bladder! It's the puppy that drives me nuts. So, I won't have to be constantly listening for the sound of plastic toys being chewed up.

I think one of the local farmers is spreading manure today. Every time I open the door to let the dog out, I'm knocked over by the "Dairy Air." I mean, wow! It's strong.

I have no idea what the kids and I are going to do to keep busy this weekend. I would love to go to NYC but I haven't heard back from the sister in law if they are around. It's days like this I wish I lived near my family so I could hang out with them. It's looking like it might be a lonely weekend. I really don't want to have a pity party.

Another option is to see Slumdog Millionaire. It finally came to State College. I would need to get a baby sitter and I'd probably go by myself since I don't think any of my mom friends are interested or available to go to the movies this weekend. Again, that would lead to a pity party. I have gone to the movies by myself before but it's more fun going with a friend.

I did get a new cook book today. It's called Back to Basics by Ina Garten.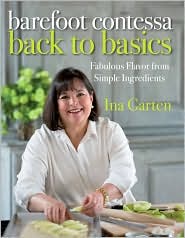 I can't wait to try it out. A friend got it through her cook book club and it only cost $12! Bonus!
Hope everyone has a good Weekend.
~Update~
Pete decided to cancel his hunting trip and stay home this weekend. I think he could tell I was feeling a little overwhelmed and down. I start my treatment in 7 days. Oh well, here we go...